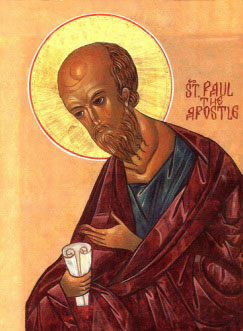 Our tour, which retraces the footsteps of St. Paul in Greece, has as its guides the Bible, the "Acts of the Apostles" as well as recent archaeological finds and discoveries. Our professionally licensed guides are both knowledgeable and accommodating and the tour can be geared to the needs of the casual as well as the more informed and detail oriented travelers.
St Paul was a dynamic figure, following his steps is not an easy task and the distance he traveled and the difficulties he faced were daunting.
Our journey, while retracing St. Paul's apostolic mission, will be done in a considerably more comfortable manner, with deluxe coach accommodations and good 3 and 4 star hotels.
In addition to our visits to the biblical referenced sites, we will also have the opportunity to visit sites of archaeological and cultural interest from Greece's long and proud ancient and Byzantine past, such as Delphi, and the Monasteries of the Meteora, a totally enchanting mix of geological and man made, God inspired beauty.
Love is patient, love is kind. It does not envy, it does not boast, it is not proud. It is not rude, it is not self-seeking, it is not easily angered, it keeps no record of wrongs. Love does not delight in evil but rejoices with the truth. It always protects, always trusts, always hopes, always perseveres. 'St. Paul the Apostle'
Day 1
Pick up at border or Kavala.
Overnight at Kavala.
Day 2
After optional morning church service at church of St. Paul we go to the monument of St. Paul. Following this, we continue to Philippi where we will visit the theater, the basilicas, and the prison of St. Paul, the Agora, the Octagon, and the baptistery of Lydia, by the river Zygatis.
Continue to Thessaloniki. Afternoon free. Dinner.
Meals: breakfast, dinner
Overnight: Thessaloniki
Day 3
Early start. Visit the old city. Castle walls and panoramic view of the city. Visit the basilica of
St. Demetrius and the roman baths below. The Roman agora, the White Tower and the Byzantine museum. Lunch in city center. Optional Orthodox vespers in local church.
Meals: breakfast, lunch
Overnight: Thessaloniki
Day 4
Thessaloniki to Meteora with stopover in Berea and visit to the bema of St. Paul with the three original steps. Then visit to the oldest preserved Jewish quarter in the Balkans. Continue to the otherworldly rocks of Meteora. Here we will visit one monastery and one convent. Optional: visit to the church of the Dormition of the Virgin Mary. 11th century.
Meals: breakfast, lunch
Overnight: Kalambaka
Day 5
Early departure for Delphi. In Delphi we visit the archaeological site and museum. Lunch in Delphi. Continue to Athens. Afternoon free.
Meals: breakfast, lunch
Overnight: Athens
Day 6
Early wake up. City tour of Athens. Visit the Acropolis, Areios Pagos and the Ancient Agora, with the royal stoa where St. Paul preached. Also the port of Kenchres where he departed for Ephesus. We continue to Corinth where we will visit the site and the museum.
Overnight: Athens
DAY 7
Depart for home
NOTE: If tour begins in Athens. Then the whole itinerary can be reversed